New Website
Puriteam Is Proud To Announce Its Latest, Customer-Friendly Design of Puriteam.com
PuriTeam is proud to announce it has launched its newest, customer-friendly design at Puriteam.com. The drastically improved design and functionality of the site embodies Puriteam's commitment to customer service while providing the highest quality products available. Puriteam is under the same ownership and customers are encouraged to call 888-491-4100 with any specific questions regarding the change.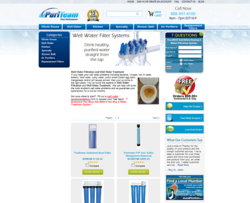 Puriteam launches re-designed website
Kennett Square, PA (PRWEB) August 05, 2011
PuriTeam has announced today that it will release its most recent design of Puriteam.com with an improved interface and new features. The new design is tailored to ease of use for customers with an improved login process, customers reviews on products, automated ship notifications, and order status inquiries available at all times.
"Here at Puriteam, our highest priority has always been to provide our customers with great products and the best technical support available," said Maria Williams, President of PuriTeam. "This website has been developed with those customers in mind, as there are many new features which will make their experience with us even more convenient."
Williams is very careful to emphasize that Puriteam.com will continue to be operated by the same group of dedicated people its customers have already come to know and rely on.
"The only discernible change that our customers will recognize," said Williams, "is an improved website designed to make our customers online experiences more enjoyable."
http://www.Puriteam.com is a popular website for whole house water filtration system and air purifier needs for the smart homeowner. The Puriteam.com website offers water purification systems for well water treatment, city water as well as customers with well water.